What You Need to Know About Mirrors with Beveled Edges
A house is not complete without mirrors in it. It can be in your bathroom, your bedroom, or even on the wall near your front door, where you can have a final look before leaving the house. Mirrors are used for reflecting images. Aside from using them to check how you look, they also have aesthetic purposes in your home such as making your space look bigger. The way they reflect the other side of the house creates an illusion that there is still space beyond the mirror. But the question is what type of mirror will best suit your home: the regular framed ones or the more sophisticated-looking beveled glass mirrors? Compared to ordinary mirrors, mirrors with beveled edges have more to offer in terms of aesthetics.
What is Beveling?
There are different edge works for mirrors. It can be clean-cut, flat polished, pencil polished, or beveled. Clean cut is often rough without any grinding or polishing. It is just straight from being cut. At the same time, a flat grind or flat polished mirror looks more finished because of smoother edges. If the edges of your mirror are slightly rounded, then it is pencil polished. And lastly, mirrors that undergo beveling are characterized by a slanted edge.
Beveling is the process of polishing a glass mirror with a specific angle. It makes the edges slant by reducing their thickness by a quarter up to one-eight from the actual size. It is not measured with the degree of the angle. Instead, it is guided with the width of the beveled edge. It can range from half an inch to 1 ¾ inch. Also, you can have a single bevel, double bevel, and even a triple bevel. Among the edgework, mirrors with beveled edges have the most character because of the exciting borders created by the angled edges.
Framed or Frameless Beveled Mirrors
Mirrors can be the centerpiece or highlight of your house. It can be in your living room or your dining area. This proves that a mirror is not just something you hang on the wall. You need to think it through. Mirrors with beveled edges usually don't need to be framed. Still, you have the option to have it framed or go with frameless beveled mirrors. Having it framed creates an illusion between the mirror and your chosen frame. While for frameless beveled mirrors, it is better to have a wider width of the beveled glass mirror for a more sleek appearance. Also, it will reflect more light in the room. These mirrors are perfect in a glamorous and chic bathroom.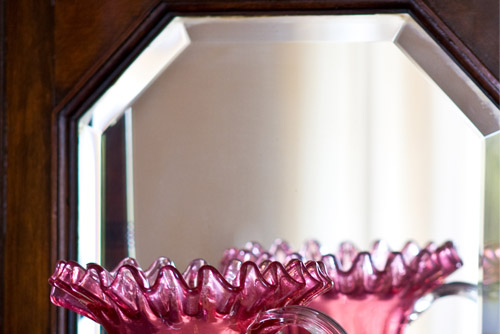 A Good Investment
People prefer the regular mirror over the mirrors with beveled edges because of how much it cost. Is it that expensive? Yes, especially if you are buying the vintage ones. The process of beveling back then is more complicated than how it is being done in the present. Glass workers used to polish mirrors manually, which is why the fabricators' hard work reflects on the price of it. However, as time goes by, the value of beveled glass mirrors increases. It may not be cheap at this time, but by the time you remodel your house, it will be worth more than the price when you bought it.
Finding a mirror for your house is the same as choosing the most comfortable couch. It is like searching for the one where you will look the best. Most people fail to do this because they only see them as part of the vanity. They need to buy one to check on themselves. However, there are a lot of things to love about mirrors with beveled edges. They will not only look good but will make you look good. Bathroom selfies or mirror selfies have been popular, and how nice it is to take a picture in beveled glass mirrors.