Glass Barn Doors: A Modern Take to Barn Doors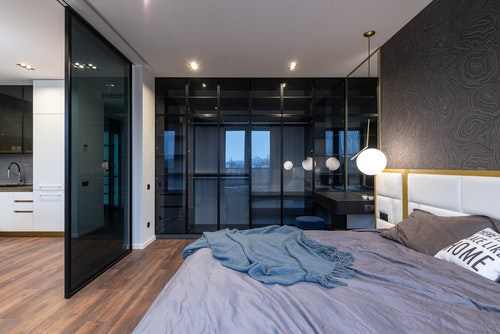 You may have seen a lot of barn doors in interior design ideas for houses lately. One reason behind it is because of the overall look it can give to your home. It mainly contributes to having a rustic look which is a trend that people have been following nowadays. The traditional barn doors, which are made of wood, bring the countryside feeling inside your home. However, as the design evolves, the traditional ones can get a little boring. And when something gets boring, you need to bring it to the next level and switch it to glass barn doors.
Modern Glass Barn Doors
Barn doors were first used at countryside barns for ease of enclosing large spaces. Their simple mechanism, which only requires a sliding track and a wooden door, has found its way to be a part of modern living where everything is all about convenience. You can swiftly open or close portions of your house like your bedroom, kitchen, or bathroom by just simply sliding it. Also, it can be a space-saver. Since you will have sliding glass barn doors, you do not need to worry about the space that hinged doors use when you open or close them. You need to make sure that the tracks are free from anything that will stop them from opening.
Glass Barn Door Designs
While the classic wood barn doors will never be outdated, you may want to have modern glass barn doors for your house. There are many styles to choose from to execute the design idea you have in your mind. Also, you can have it customized. Here are some of the options you can have for your glass barn doors.
Framed or Frameless
Full-glass or With Dividers
windoFrosted or Clear
You will find most of the glass barn doors framed, mainly if the glass is divided into parts. The purpose of it is to support the glass pieces in the door. However, some of them are made with full-glass and have grills on top of it to create the division. Still, they need something to hold them together. But if you want to have a full-glass barn door, consider having it frameless. This will best fit your bathroom and even better if you will have frosted glass barn doors.
In addition to this, the design of the rails or tracks must also be considered. You can select from the simple tracks and those that have distinct styles. The design of the door and tracks must complement each other but having contrast is something to try.
Privacy
One of the concerns that may arise when using sliding glass barn doors is privacy. Glasses are often transparent that can enable outsiders to see the people inside the house or room. Though you can have the option to install frosted glass barn doors, it may lessen the amount of light entering the room, especially if you will have it in the living area or your bedroom. Another way to have privacy is by having blinds or curtains. It will also help you control the light because there are days that the sun is too bright.
Safety
Some things are prone to destruction, and one of them is glass. Maybe you are thinking, what if it shattered when you bumped into it or if you closed it too hard. Well, they are inevitable situations. Once in a while, you bump into them, and sometimes you get carried away by your emotions. Having the correct type of glass and the right people to install it will save you from these accidents. Some glasses can endure a certain amount of pressure. And when appropriately installed, you don't have to worry about cleaning up broken glasses on the floor.
A simple barn door from the farm has been upgraded to become the modern glass barn doors being used to improve the house's aesthetics. Not to mention the functionality that comes with it, glass barn doors are one of the design elements you want to install in your home. If you want to use high-quality glass for your barn doors, you may choose from our wide range of glass types.