Frameless Glass Shower Doors: What You Need to Know?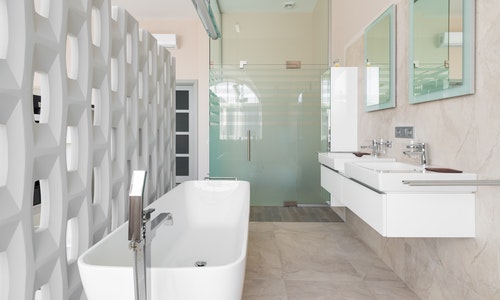 Are you planning on renovating your bathroom or replacing your bathroom door? First, you have to know the signs when your shower door needs replacement. It will be an excellent decision to get sliding glass shower doors.
The frameless glass shower doors are elegant and modern. It adds class to the overall appearance of the bathroom. It is also ideal for a small bathroom because it is easy to open and close, which can be advantageous if you have kids at home.
Frames and Thickness
When choosing glass shower doors, write the specific type of glass you need. But before that, you must determine what type of bathroom you want. Do you prefer having a bathtub and then getting bathtub sliding shower doors? Or without a bathtub and pick the appropriate one.
Home Owners may find it challenging to determine the thickness of a glass sliding door for a shower. It has to have enough consistency to maintain the integrity of its structure but not too heavy that it can be difficult to carry and install.
The usual thickness options for frameless glass sliding doors are 0.375 to 0.50 inches.
Framed Sliding Glass Shower Door
Here are also other things that you need to know that may influence your decision to select a glass sliding shower door.
Advantages:
Framed sliding doors are cheaper because the glass is thinner, and the support relies on its frame.
When it comes to installation, the framed glass doors are easier to install, so you can save on the labor cost.
There will be lesser water leaks when the glass doors are framed.
There are countless decorative frame designs that you can choose from. Thus, providing you flexibility in designing the bathroom.
Disadvantages:
It is not the latest, and it does not look modern.
The glass is thinner, which means it needs extra care.
It may be challenging to clean as dirt may accumulate into the frames, and molds could breed.
You need to have a firm and strong frame because the strength of the glass is dependent on the frame. A weak frame may break the glass.
Frameless Glass Shower Doors
Frameless glass sliding doors are considered heavy duty because they don't depend on the frame for support.
Advantages:
The frameless glass sliding doors are flexible. They can adapt to any bathroom design, and they are easy to customize.
Since they have no frames, they are easy to clean. You don't have to worry about the sides and edges because there will be no possible place for molds and dirt to stay.
The designs of the frameless glass door are modern. Most houses and even 5-star hotels prefer frameless glass shower doors because their elegance adds value to the bathroom.
You can also have glass shower doors customized and pitch your own design. It is also nice to opt for frosted glass for added privacy and aesthetic.
They are easy to clean and maintain.
Disadvantages:
More expensive because of thickness.
The absence of frames makes the water can easily leak through the door.
Breakage is possible when exposed to extreme heat or pressure.
Care and Maintenance of Glass Sliding Shower Door
Glass doors aren't easily damaged by water. However, due to water streaks, soap residue, and mold, and mildew accumulation, they become vulnerable to damage. That is why, if you want to maintain the clear color of the glass door, you have to set a standard cleaning procedure.
Tips to take care of glass doors:
Use glass coating.
Protect the glass from water streaks.
Keep your bathroom door open after showering to keep humidity level down. This is the best way to get rid of moisture from the glass, preventing hard water stains.
Splash water into the glass door after you shower to remove soap residue.
Use waterproof treatments. The waterproof treatment you use in your car windows is also applicable to your glass door's clear color.
Glass Sliding Shower Door Installation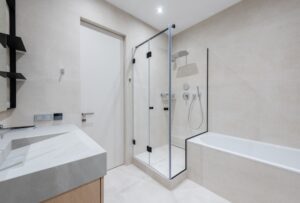 Installing a sliding glass shower door may require effort and manpower, especially if you install a thick glass door. Also, it may be unsafe if you are not knowledgeable enough to install it correctly. You might break it while screwing, or the alignment may not be proper, so you have to redo everything, which can be a waste of time.
Why risk when you can have someone do it for you? Peninsula Glass is a huge supplier of glass doors. They can even do all the necessary steps, so you can just sit and wait for it to be done.
Peninsula Glass aims to provide excellent service and high-quality glass. If you wish to customize your glass shower door, they are more than happy to discuss it with you, or you can order online and get a free quotation.